THE AFTERPARTY / FLUORESCENT HEARTS

Octane OK / Dearly Beloved
Camden Barfly, London
(09.09.13)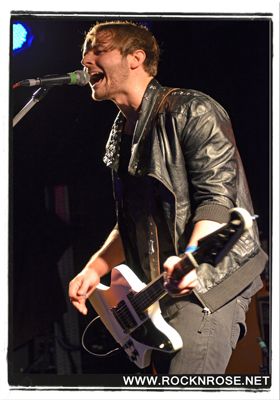 Although they are not tonight's headline act, we are back in London especially to watch Octane OK tearing up the stage at the Camden Barfly. First up though is Dearly Beloved from Toronto, Canada. It's their first time playing a show in London and they are keen to showcase their songs, including those from latest release 'Hawk vs. Pigeon', so it's a shame that the turnout at this point is sparse. Dearly Beloved delivers a mishmash of brash punk and electro noise. Co-vocalists Niva Chow and Rob Higgins work well together and although the music doesn't really do anything for us, there is an eccentricity in Dearly Beloved's performance which puts them apart from the other bands on the bill.
A few more people have arrived by the time Birmingham's Octane OK set begins. As always, OOK give their all and the four-piece look and sound as if they are the headliners.
Live favourite 'Pretty Lady' instantly has toes tapping and heads nodding along. With their debut album due to drop next month, the set consists of three new songs including 'Last Chance' and the singles 'Survive' and 'Standing On My Own'. These songs show off the slight shift in musical direction, the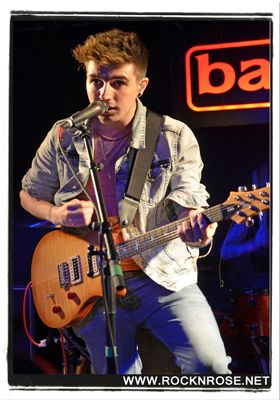 added aggression in the guitars sounding more predominant live while still retaining the melodies they produce so efficiently.
As frontman Paul Tandy, bassist Drew Comley and guitarist James Mclaren rock out at the front section of the tiny stage, at the back Tom Weston appears to be having a party of his own, delivering hammering blows on drums as if his life depended on it. These guys certainly have their live shows well-scrubbed up, this time next year it's very likely that Octane OK will have out-grown venues of this size.
It could have gone down-hill from this point; Octane OK's set is pretty hard to compete with. But as it turns out, joint headliners Fluorescent Hearts and The Afterparty are able to impress too. Initial thoughts of Scottish crew Fluorescent Hearts is on their appearance and how they look as if they have come straight from the XFactor. As soon as they begin playing however, you can't help but be won over. Singer Chris Ashton's vocals have a beautiful tone which draws you in. Reminiscent to the likes of chart stars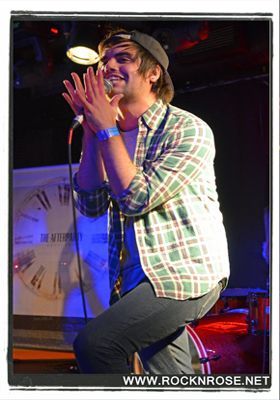 One Republic and Lawson, the band dish out songs from their debut album 'Anthem'. In comparison to the others bands in the line-up, FH lean further towards the pop side of pop-rock but they do it perfectly without being too saccharine. Nice work guys.
Like Octane OK, The Afterparty turn up the volume and switch back to up-tempo mode. As their name suggests, this Southampton-based bunch are in party mode. 'Open Road' is one of the highlights of the energetic set, alongside the in-your-face anthem 'Liar, Liar'. The Afterparty is another band that has the potential to do really well in the UK rock scene. Check them out if you haven't already.
THOUSAND FOOT KRUTCH

Under The Influence
The Underworld, London
(03.09.13)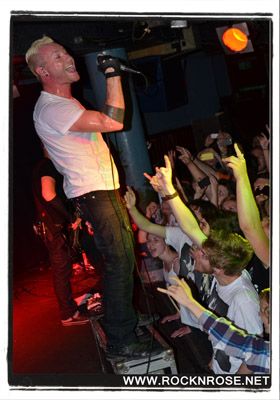 To say Canadian rockers Thousand Foot Krutch have sold a fair few albums is an understatement; these guys have shifted thousands upon thousands of them since their formation in 1997. On this side of the Atlantic they have remained deep under the radar. After tonight, that could all be about to change.
Before the doors open the queue is snaking around the building. The 500 capacity Underworld is already filled by the time opening act Under The Influence take the stage.
Influenced by the likes of The King Blues and Enter Shikari, Under The Influence deliver a set filled with spirited rap-rock and the crowd love it. Upon introducing one song - 'The Struggle' – it's revealed that it's "about being in a band and playing to nobody"; well it has to be said that their times of playing in front of a sparse crowd doesn't appear to have done them any harm. The five-piece have a good stage presence and have no problem connecting with the crowd they are playing in front of tonight who clap and bounce along to the set of songs delivered to them, including: 'V's The World', 'Kings & Cretins' and a cover of Chase and Status' 'Hypest Hype'.
If they can secure more opening slots like this, it would not come as a surprise if Under The Influence headline venues such as this on their own one day.
It's been a long time waiting for Thousand Foot Krutch to grace these shores. The chants of 'TFK' begin and it's not long before the wait is finally over. Kicking the set off with the aptly titled 'Let The Sparks Fly', TFK have arrived. "Good to see you England…" says frontman Trevor McNevan with a mile wide smile, "we've been waiting for this." The audience certainly share that sentiment. There's a party atmosphere starting as 'I Get Wicked' pumps the adrenaline.
While the set is heavily made up of songs from the band's latest release 'The End Is Where We Begin', the old material is not forgotten: 'Falls Apart', 'Move', 'Bounce', 'Rawkfist'. Those pieces of the past hold their own against the newer offerings. TFK have come a long way musically and while they are obviously not afraid to modify their sound with each album they make, they also have no fear of embracing their heavily infused rap/hip-hop rock past. In fact 'The End Is Where We Begin' sees a scorching blend of those different flavours all rolled into one.
The beautiful ballad 'Be Somebody' has the audience singing word for word. A spot of technical trouble with Trevor's microphone is put right in time for a powerful delivery of 'The End Is Where We Begin'.
The band refuse to let jet lag or the lack of space on stage hinder their energetic performance. The crushing anthem 'Courtesy Call' has the crowd jumping while the hard hitting 'War Of Change' and 'Fire It Up' continue the momentum. The Rage Against The Machine-esque 'Light Up The Sky' brings the main set to a blistering close.
As the band exit the stage, chants of 'TFK' echo around the room. After a very short wait the band re-emerge and perform one last song. Taking us way back to 2001 'Puppet' ensures the energy level doesn't dip.
Thousand Foot Krutch hope to make a return journey in 2014 – if you missed them this time you missed an amazing show, so make sure you secure your ticket next time round.
**More photos from the show can be found on the Rock & Rose Facebook page**
Thousand Foot Krutch
Under The Influence
DROWNING POOL

Fozzy / Revoker
Rescue Rooms, Nottingham
(16.04.13)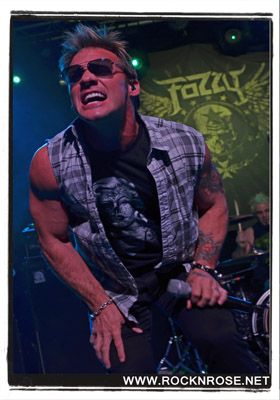 Looking around the partially filled venue you have to feel sorry for Welsh metallers Revoker who have to take on the challenge of having a super early opening slot. Even as their set begins it's clear to see that the quartet don't seem to have a problem rising to the challenge. Tracks from their debut 'Revenge For The Ruthless' are delivered along with new song 'Hands Of Justice'. Incorporating thrash, metal and crushing melodies, Revoker sound rebellious, sharp and muscular. It's safe to say that the people who have arrived early enough to witness the foursome appear to be suitably impressed. It's reassuring to know that home grown talent can deliver the goods even when placed alongside established artists.
The venue is bustling with people by the time Fozzy hit the stage. Drowning Pool may be headlining but Fozzy are also a big draw. The excitement inside the Rescue Rooms is tangible. As the creepy intro to 'Spider In My Mouth' begins the crowd cheer, clap and holler. As soon as Fozzy's lead singer Chris Jericho bounds onstage the adrenaline levels go through the roof. From start to finish Fozzy generate an electric and hugely energetic atmosphere. The set is loaded with songs lifted from 'Sins and Bones' including 'Sandpaper' and the potent 'Inside My Head'.
There is a strong element of fun in Fozzy live performance and you can tell that the quintet is out to give the audience a good time. It almost wears you out just watching the band give their all on-stage; Chris - who somehow manages to keep his sunglasses in place despite his vigorous head movements - is a charismatic and commanding frontman. Observing Rich 'The Duke' Ward is just as compelling - he regularly uses the wall next to him as a prop, using it as leverage as he kicks out and launches himself backwards without missing a note.
Chants of 'Fozzy, Fozzy' in-between songs make the band smile; Chris whips the crowd into a frenzy as he stands encouraging the crowd to chant some more. Fozzy do not shy away from the older material, taking us back to as far as 2002 with 'To Kill A Stranger'. 'God Pounds His Nails' also goes down a treat and towards the end of the set 'Enemy' has everybody singing along. Powerful and invigorating are the words to use to sum up the Fozzy live experience. Drowning Pool has a lot of work to do to outdo this performance.
The crowd cheer as Drowning Pool's Mike Luce steps behind his drum kit. The sticks-man proceeds to deliver a hammering intro and it's not too long before bassist Stevie Benton, guitarist CJ Pierce and vocalist Jasen Moreno walk out to the welcoming applause.
Getting things kick-started with 'Step Up', all eyes and ears are glued on newcomer Moreno. Is he what Drowning Pool need in a frontman? Hell, yeah! From start to finish tonight, the singer proves without a doubt that he is the right man for the job. He has the stage presence, the voice and the image.
Thanks to Jasen's vocal abilities, the Texan quartet's set is loaded with songs from their debut album 'Sinner'. The old material gets a fresh breath of life into it and sounds as good today as it did back then, with the audience lapping up songs like 'Pity', 'Follow', 'Tear Away' and 'Sinner'. Chants of 'Drowning Pool…' reverberate around the venue before the band introduces the moody ballad '37 Stitches'.
Drowning Pool's brand new album 'Resilience' may have only dropped a few days prior to the start of this UK tour but the new tunes go down a treat. 'One Finger and a Fist' in particular brings such an adrenaline rush with it; it's an aggressive fist in the air anthem which no doubt will be a staple in the set for many years to come. Meanwhile, party rocker 'Saturday Night' brings a celebratory mood.
It's no surprise that 'Bodies' closes the show and the band and crowd give it all they've got for one last time. It's chaotic, it's powerful and it rocks so damn hard!
In terms of crowd participation, Fozzy generated the greatest response, but nevertheless Drowning Pool put on a brilliant show; one that the people of Nottingham hope to witness again in the not too distant future.
THE WONDER STUFF

Erica Nockalls
Rock City, Nottingham
(13.04.13)
Review by ROB LANE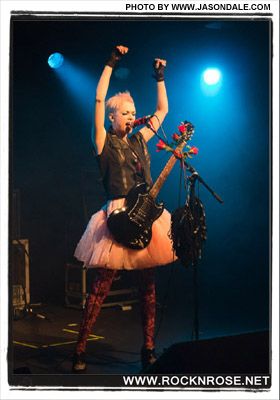 Erica Nockalls strikes an imposing presence on the Rock City stage. Think part Alice In Wonderland chic, maybe part Brigette Nielsen in 'Beverly Hills Cop 2', but without doubt, all parts rock star! Any hint of shyness is swamped by a confidence to entertain which she has the ability to do in droves. Her debut album, 'Imminent Room', is far from easily digestible or radio friendly. It's an album of melodic chaos that takes time to develop in your head, so translating it to the live stage in front of a somewhat uninitiated audience could be tough. Once opener 'Neon Crucifix' hits its stride, it's clear that this isn't going to be a problem! The often electronic foundation of the album is replaced with a grunge rock backbone provided with ease thanks to a solid rhythm section made up of Laura Kidd, all flowery mid 90s alt grunge, and drummer Dei Elfryn who slams effortlessly behind the girl troupe! To the left of Nockalls, guitarist Nicole Fermie's swagger gives the impression of a mainstream pop star that turned her back on the machine, slamming the door with middle finger proudly in the air. This doesn't feel like a new band, it feels like a solid unit which most importantly has character.
Erica switches between guitar, violin and vocal duties effortlessly and by the time they close their set with current single 'Cut Them Out', the Nottingham crowd is suitably won over. If this is just the beginning, I can't wait to see where this can go. Original, inspiring and real!
'Hey Nottingham, how's it working out so far?', asks The Wonder Stuff front man Miles Hunt, mid way through the bands second song 'Red Berry Joy Town'. The huge response from the midlands crowd no doubt answered that things were going pretty damn good! The Wonder Stuff could so easily have become a nostalgia act.
They could have just been one of those bands happy to dust off the guitars once a year to perform the same set to a forever dwindling audience re-living their college years for an hour and a half then return to real life. Instead, the band continue to reinvent and move forward whilst paying the utmost respect to their past.
It may just be Hunt, the only remaining original member, but he has surrounded himself with a stellar line-up that is solid and professional but most of all fun. With a new album to promote, 'Oh No It's… The Wonder Stuff', they keep things simple, only adding a few new songs but it's like these have been in the set for years. The title track 'Oh No' followed by the 'Come Dine With Me' inspired 'Friendly Company' show that great song writing is still the main priority for one of this countries finest bands. Elsewhere it's a tour de force of great guitar pop that sounds as fresh as the day it were released, rather than being over two decades old. 'On The Ropes' and 'Mission Drive' are the essential set winners, great rock tunes with intros to wake up even the most subdued crowds. 'Piece of Sky' and 'Golden Green' add the flip side element with their acoustic, country styling whilst 'Unbearable' and 'Don't Let Me Down' with their unashamed fun hooks complete the almost never ending elements of this band.
Rounding off their set with a rousing version of Duran Duran's 'Planet Earth', The Wonder Stuff proved themselves more than worthy of being a current and totally relevant band but the thing is, they never had to do that, they're just a GREAT band - plain and simple!
LOSTALONE

The Dead Famous / Evarose
O2 Academy 3, Birmingham
(17.02.13)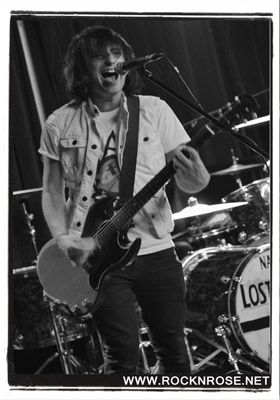 Having spent the past few years touring the UK and Europe, Derby's LostAlone have played in front of all kinds of crowds, of varying sizes, acquiring to support slots with established artists such as Paramore, Thirty Seconds To Mars, My Chemical Romance and more recently Evanescence.
While their album 'I'm A UFO In This City' has garnered critical acclaim since its release early last year, the band has yet to make their jump away from the small venues.
The 250 capacity Academy 3 is bustling with people and this doesn't go unnoticed by LostAlone frontman Steven Battelle, as he points out how nice it is to see how the percentage of people coming to see their shows has increased for this tour.
On this trek the trio have teamed up with Evarose and The Dead Famous. Female crew Evarose impress, performing songs from their 'Elements' EP. The quartet appears to be capable of writing a catchy song or two, but at this moment in time their target audience will be the teenage market. However, there is something in their work that suggests that they have the potential to evolve. Worth keeping an eye on, that's for sure.
Next up is The Dead Famous. Formed in 2011 by Go:Audio vocalist James Matthews and Elliot Minor drummer Dan Hetherton. The London-based rockers have a set filled with enjoyable, toe tapping numbers including: 'I Can Stop The World', 'Faithless' and 'Dying on the Dancefloor'…
While The Dead Famous do not offer anything unique, they are entertaining. 'I've got superstar in me,' Matthews sings during 'Superstar'. A promising observation and one which, judging by how well the band is received by the crowd; may not be all that far from the truth.
As 'Vesuvius' suddenly breaks loose, trio LostAlone go hell-for-leather. Chaotic yet blissful; a strange partnership of words but LostAlone capture both—at the same time.
Steven plays conductor during 'Unleash The Sands Of Time'. Without any words of encouragement, he gets the crowd singing along. With a point of a finger he continues the role, leading the crowd through 'Paradox On Earth'. Swaying their arms from side to side, the Birmingham audience are keen to participate in the show.
Drummer Mark Gibson provides a marching drum beat throughout new song 'Hostages'. If this track is anything to go by, the next album will be another gem.
After 'Blood Is Sharp' has everyone clapping and singing along, Steven mentions his desire to get down offstage and position himself amongst the audience. He sits himself in the middle of crowd; almost everyone joins him in sitting down. Bringing a camp fire vibe to the show, the singer performs an acoustic and stirring rendition of 'Orchestra of Breathing'. Other highlights include 'Do You Get What You Pray For?' and let's not forget the irresistible 'Love Will Eat You Alive'.
A LostAlone show brings vitality and a distinctiveness that is lacking in today's rock scene. If you missed them this time, make sure you catch them on their next tour!
TREMONTI

Heaven's Basement / Logan
Wulfrun Hall, Wolverhampton
(14.02.13)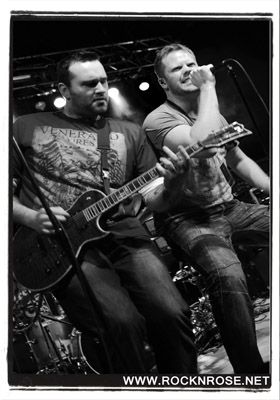 'Forget the romantic meal for two this Valentine's Day; let's enjoy a serving of rock music instead', that's how the conversation went between the couples in attendance tonight–possibly. It's fair to say the right choice has been made and there's certainly plenty of love for each of the bands on this bill. With Tremonti, Heaven's Basement and Logan sharing a stage, there is a little something for everyone.
Scottish five-piece Logan are up first. Logan and Mark Tremonti go way back, to when Logan supported Alter Bridge back in 2005 and then again in 2008. Musically it's definitely a well suited relationship. 'Hallowed Ground', 'Brother' and new song 'Ressurect Me' hold a post-grunge American flavour which, when paired with the powerful vocals of Kenny Collins, gives a nod towards Creed.
Wrapping their set up with an oldie but still a corker - 'When I Get Down'; Logan's first ever single is always a pleasure to hear live. All in all a strong performance from a band who are overdue, and deserve, their time in the spotlight.
The Wulfrun Hall is filling up nicely as Heaven's Basement walk out on to the stage. With a freshly released debut album – 'Filthy Empire' - finally nestled under their belts, vocalist Aaron Buchanan, guitarist Sid Glover, bassist Rob Ellershaw and drummer Chris Rivers, now have all the things in place for them to kick open doors in a big way.
Renowned for their spirited live shows, Heavens Basement look and sound like they are a band on a mission. 'Welcome Home' comes charging at you full throttle, followed swiftly by 'Fire, Fire'. The songs keep on coming, carrying big riffs, attitude and a large dose of catchy melody. 'I Am Electric', 'Nothing Left To Lose' and closing number 'Executioners Day' go down well with the crowd. Heaven's Basement's chance of gaining success on a more commercial level is stronger than ever.
Following two enjoyable performances the guys in Tremonti have their work cut out, but they rise to the challenge.
Tremonti's sound is an even balance of rock and metal and the thundering opening riff from 'Leave It Alone'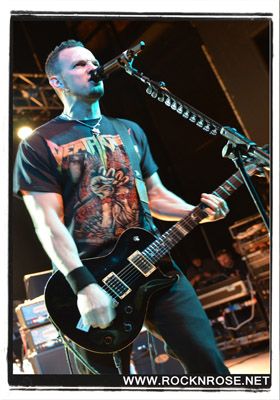 is the signal that things are going to get louder and heavier from this point. The set sees the band playing the entire collection of songs off the 'All I Was' album.
Mark Tremonti is clearly getting settled in to his role as frontman; his guitar playing remains superb as ever, with him delivering killer riff after killer riff.
Complementing Mark's performance is guitarist Eric Friedman, drummer Garrett Whitlock and bassist Wolfgang Van Halen. Together the foursome provide a crisp, intense execution of the songs including: 'All I Was', 'So You're Afraid', 'Doesn't Matter' and 'The Things I've Seen'. During the course of the show Mark introduces two unreleased numbers which did not make the album – 'All That I Got' and 'Gone' – both tracks fit comfortably in the set and receive a good response from the crowd. When you are presented with B-sides like this, it always gets you wondering about what other unreleased songs bands have hidden away.
Latest single 'Wish You Well' is followed by 'You Waste Your Time'. Both songs are mighty, delivering a forceful punch and kicking some serious ass, brilliantly showing off the first class musicianship of those stood on the stage. Carrying a catchy melody set closer 'Brains' is another muscular piece, one that further cements the fact that the Tremonti band has a healthy future, and we cannot wait for album number two.
Tremonti
Heaven's Basement
Logan
CROWN JEWEL DEFENSE

Octane OK / Tantrum To Blind / Albino Gorilla
NQ Live, Manchester
(17.01.13)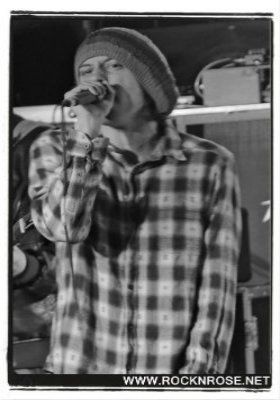 Outside the snow has started to fall. With the whole country being issued a warning about the heavy snow that is expected over night, a few people have braved the conditions and made their way to the NQ Live to enjoy a night of live music from rising talent.
Opening the show is Manchester's own Albino Gorilla. Their songs, including: 'What's Going On', 'Bellyful of Love' and 'Apache Chief', offer an enjoyable amalgamation of Oasis style Brit-pop with Seattle grunge. Although you can tell that the these guys do not have as much live experience as the other bands on the bill, having formed just under two years ago, the fact that only a handful of people are in the room does not deter the quintet from giving it their best shot.
Upping the tempo Tantrum to Blind charge straight in and a vigorous 'Get Get Get', this certainly has the blood pumping. Armed with an arsenal of mainstream punkish, pop-rock delights from their debut album 'Walk Out', the Swedish rockers help thaw the icy chill of the room.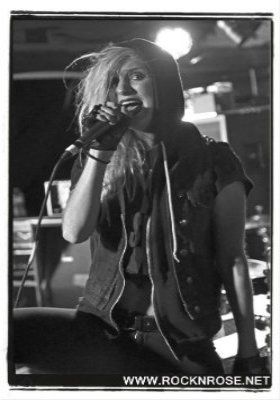 Melanie Mohlkert is not one for standing still. During 'Liar Lines' the singer heads in to the 'crowd', not for the first time, to sing to members of the audience. New single 'If We Let It Go' is a sharp and catchy song, one that gets heads nodding along.
'Something in the air…' Mohlkert sings at the beginning of the band's final number 'Big City Silence'; tonight that 'something' is a feeling of satisfaction. It's easy to see and hear why Tantrum To Blind are being tagged as one of the hottest up-and-coming bands on the scene. Confident yet not overly so, they certainly look and sound like stars in the making. Tantrum To Blind are set to have a memorable 2013.
The lights go down and the intro Starship's 1985 hit 'We Built This City' rolls. "Manchester, how you guys feelin' tonight?" yells Octane OK frontman Paul Tandy before the band kick start their set with the attention grabbing 'Pretty Lady'. The first of three new songs played tonight is 'Survive'. 'Survive' ticks all the right boxes and with an infectious melody and a rousing anthemic chorus,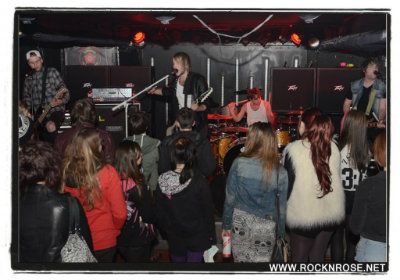 it's a built for arena rocker. 'Standing On My Own' - the first single lifted from the quartet's forthcoming debut album – is another scorching track.
Although we wouldn't want them to totally cast aside their pop-rock roots, the new material exhibits the band's growth. Keeping the hooks and sing along liveliness but bringing in louder guitars and a rougher edge, Octane OK's progression towards a heavier sound is spot on. However when older tracks such as 'The One' and 'Fly Again' get their turn, they remain as elevating as ever. In fact, rather than coming across as stale, they sound revitalised. Octane OK always put on a great show, if you have yet to see them live there will no doubt be ample opportunity to do so this year, make sure you make it to one of their shows – you will not leave disappointed!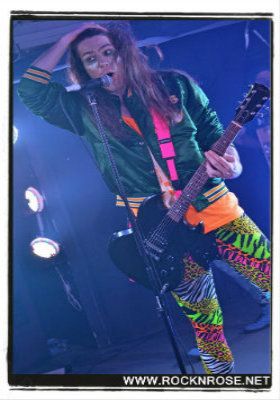 Influenced by pop and metal, the Crown Jewel Defense sound draws on both to create an intriguing combination of exuberant melody and heavy, hard-hitting beats, peppered with an essence of 80's glam.
With his face sparkling with glitter and his neon coloured attire, CJD's main man Taylor Hood is a fascinating character with a unique voice.
Hood never stays in the same spot for long; instead he makes the most of the space he has on stage and off it, as he and his band mates perform songs from the self-titled debut album. Highlights include: 'Mandy', 'Wasting Days', 'Always The Same' and single 'Alive Again'.
Crown Jewel Defense's performance fizzes with fun, despite some technical difficulties. Especially notable is the sing along to Hood's solo rendition of Backstreet Boys hit 'I Want It That Way', where the guys are especially vocal!
The set closes with 'Forgotten Life'. Entertaining, quirky and flamboyant with a wardrobe to match; that pretty much sums up Crown Jewel Defense.
Defying the weather was well and truly worth it. Keep your eyes and ears open, 2013 is going to be quite a year for this line-up of talented bands.
Crown Jewel Defense
Octane OK
Tantrum To Blind
Albino Gorilla
SOiL / FOZZY

Breed 77 / Villains
O2 Academy 2, Birmingham
(29.11.12)
Playing to a sparse audience Villains (formerly Never Means Maybe), do their best to warm things up. Performing tracks from their forthcoming debut, including first single 'Visions', Villains play a set which is not bad on the ears, but they fail to generate much of a reaction from those stood watching. It's never easy being the opening band. Nevertheless, the Essex quintet serve as a light appetizer before the meatier offerings are delivered.
By the time Breed 77 hit the stage the number of people inside the venue has increased in to quite a sizeable crowd. Despite consistently touring and becoming a headline act in its own right, this award winning band still remains vastly underrated. It takes a while for the crowd to loosen up but with lead singer Paul Isola unimpressed by the audience's initial coolness, Isola makes it his mission to change the mood. As the London-based five-piece dish out songs such as 'The Battle Of Hatin'', 'Blind' and latest single 'Drown', the crowd finally begin to stir. A cover of Alice Cooper's 'Poison' goes down well before the brilliant flamenco metal explosion of 'La Ultima Hora' gives a stunning taste of the Mediterranean.
The crowd holler for more. As Breed 77 break into their final nu/WST.aspx#mber, a rendition of The Cranberries hit 'Zombie' the crowd go crazy: jumping up and down and singing along. The band exits the stage to chants of "Breed, Breed…" Yep, Breed 77's job is complete; their objective fulfilled.
'Incy wincy spider…' a little girl sings on the intro tape, like a creepy soundtrack to a horror movie it's enough to sends chills down your spine. Chris Jericho bounds on stage, his arms signalling to the crowd to jump up and down. From this point forward, chants of "Fozzy, Fozzy…" echo around the room after each song, Jericho laps this up, even though the singer is wearing sunglasses you can tell his smile reaches his eyes. The chants are so frequent that towards the end of the set the frontman points out: "You guys like chanting Fozzy don't ya?"
While there are times when Chris' vocals seem to be in drowned out by the guitars and drums, Fozzy - completed by guitarists Rich Ward and Billy Grey, bassist Paul DiLeo and drummer Frank Fontsere - has the Birmingham crowd in the palm of their hands. The set list is filled with tracks from latest release 'Sin and Bones': 'Sandpaper', 'Inside My Head', 'She's My Addiction' and more. The Atlanta, Georgia crew make sure their older material is not completely overlooked, digging into their 12 year history to present 'Eat The Rich' and 'To Kill A Stranger'. The band put on a tight and energetic performance. There are plenty of Fozzy fans in attendance tonight and no doubt they will have made a few more friends here in Birmingham.
With Fozzy raising the bar a little higher, SOiL has some work to do in order to maintain the same drive from the audience. The aggressive 'Breaking Me Down' leads the charge, making an impact instantly. 'When you scream aloud (heads down, heads down) / That's when I plan to (rise up, rise up)' frontman Ryan McCombs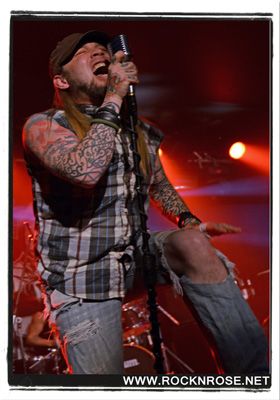 sings during the next song - 'Pride'. As guitarist Adam Zadel, bassist Tim King and current touring drummer Mitch Gable rock out onstage, Ryan jumps off to sing to those at the barrier. After a short Jägermeister break the band throw in a cover of Drowning Pool's '37 Stitches', which proves to be just the tonic to appease the crowd who were eager to share the liqueur with Ryan - the singer doesn't share!
It's no surprise 'Halo' causes the biggest stir of the set. The crushing hook sounds as feisty as ever and even ten years on it feels larger than life; no cobwebs or sign of ageing. Ryan heads out in to the middle of the crowd to perform the song, "You are the nicest fucking crowd I've ever walked in to!" the frontman points out.
After being all fired up, the crowd are set for an encore. They wait…and wait… It's fair to say that the crowd are a little miffed when the band fails to return; their set lasting barely one hour. When chants for SOiL fall flat the crowd try their luck with 'Fozzy' and then 'Breed'. After 5 minutes the crowd accept that the show has finished and disperse shuffling off on to the cold streets of Birmingham. Despite its dampened ending, the evening's festivities hit the right spots.
STEEL PANTHER

Falling Red
Civic Hall, Wolverhampton
(06.11.12)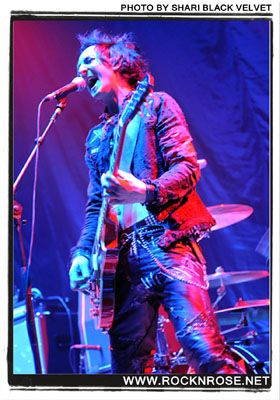 If it's tongue in cheek lyrics and exuberant adult humour you are after then Steel Panther supply the goods by the bucket load. Oozing 80's sunset strip glamour and attitude, Steel Panther are a parody of the best that 80's rock had on offer, including the colourful attire, big hair, bandanas and make-up stained faces!
It's fair to say that those gathered in the Wolverhampton Civic are transported back in time tonight, even opening band Falling Red serve up an old-school sound. Suited to the likes of Backyard Babies and even Buckcherry, Falling Red embrace the 80's era but drop the glam and keep the sleaze and defiance. Showcasing tracks from their debut album 'Shake The Faith' and the 'Hasta La Victoria Siempre' EP, the Carlisle four-piece's punky rawk 'n' roll is delivered with quite a ferocious punch. Songs like 'Out Of Control', 'Come On Down' and current single 'We Are The Reckless' are fuelled with vigour and delivered with a sneer. The crowd are asked to participate in the snarling 'If You Ain't Down With The Rock', a repetitive number but nevertheless does its job in getting the audience involved in the action.
Falling Red close with the second cover of their set (the first being Kiss' 'Love Gun'), Little Richard's 'Long Tall Sally', a rather apt choice as it sets the mood in time for the headliners.
A Steel Panther show is about having fun, fun, fun! As soon as singer Michael Starr, guitarist Satchel, bassist Lexxi Foxx and drummer Stix Zadinia step on to the stage the fun begins. You're to leave any prudishness at the door because adult humour and comical lyrics referencing sex, drugs and rock 'n' roll are plentiful. 'Supersonic Sex Machine' is followed the band having a lengthy chat to the crowd, making jokes and encouraging the girls to show their breasts. When they get back to the music, party anthem 'Tomorrow Night' and 'Fat Girl' bring smiles to a sea of faces.

Look around and you'll see that there is a lot of wig action going on and not just on-stage. Members of the audience are playing dress up too and there are plenty of people in attendance who seem eager to relive the 80's heyday, even if it is just for the night.
Steel Panther offer a dazzling light and stage show fit for arenas, delivering soaring anthems like 'Asian Hooker', 'Just Like Tiger Woods', 'Let Me Cum In', 'If You Really Really Love Me' as well as an ample selection of cock-rock stage moves. Bassist Lexxi Foxx spends the evening pouting and preening in front of his very own dressing table which is situated stage side. Meanwhile, singer Michael and guitarist Satchel get busy instigating a breast flashing spree, for which a fair number of females are more than happy to indulge in. For rousing anthems 'That's What Girls Are For' and 'Party All Day' the band invite a group of girls from the audience up on-stage, where all their inhibitions seem to be lost. The screeching, fist pumping, metal anthem 'Death To All But Metal' rounds off the main section of the show.
The hilarious 'Community Property' incites a sing-along; it is given the acoustic treatment until midway through when Lexxi and drummer Stix return to help finish the song in all its electric glory. After getting the crowd to take part in a vocal challenge, which included Lexxi's very funny contribution of a 'hee-haw' donkey noise, the show finishes with the bragging '17 Girls In A Row'.
The band members group together to take a bow as they say thank you and goodnight. The Hollywood quartet clearly had a great time and so did the audience. They came, they saw, they conquered: mission complete! There is nothing politically correct about Steel Panther; they are lewd and crude but it's just satirical. Strip it all back and they really are great musicians who execute the music brilliantly.
TONIGHT ALIVE

LostAlone / Blitz Kids
Asylum 2, Birmingham
(06.10.12)
The Asylum 2 is a small venue with a capacity of 100 people and tonight's gig is sold out. As more and more people pile into the room, the warmer it gets. When Blitz Kids take the stage the temperature soars even higher, thanks to the band's energetic stage presence. Mixing hardcore and punk with a big dollop of pop the Blitz Kids go down very well with the young crowd.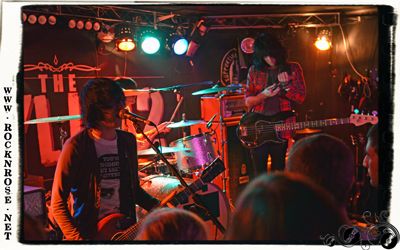 Next up are terrific trio LostAlone. With Seal's hit 'Killer' blasting out the PA, LostAlone's Steven Battelle, Mark Gibson and Alan Williamson walk through the crowd and onto the small platform that passes for the stage. Due to the stage being not much higher than that of the standing area, unless you are right at the front you can barely see Battelle. The front man does his best to try and put himself on display and even asks for a box to stand on (the box never materialises).
During 'Creatures' a vocal experiment mid-song sees singer Steven away from the microphone and instructing the throng to whisper the word 'yeah' as quietly as possible, he then asks them to repeat it and build up the intensity with each repetition. The crowd seem to love the quirkiness of it all. A bond is formed.
While on the subject of quirky: after the trio rock out hard with 'Vesuvius' and 'Blood Is Sharp', Steven announces that he would like the crowd to partake in 'the wall of love' during 'Do You Get What You Pray For?'. As with the wall of death, the crowd split in to two sections down the middle. The wall of love sees Steven situating himself in the middle of the divide and rather than having the crowd crash in to him, he requests two things: to be hugged and to exchange complementary niceties. What a very charming and novel idea.
The victorious threesome round things off with the cracking 'Love Will Eat You Alive'; you really can't help falling in love with LostAlone.
It's Tonight Alive 's first ever headline tour of the UK and after seeing tonight's set it certainly won't be there last. The headliners create havoc as they charge through songs from their debut album - 'What Are You So Scared Of?' - starting with the up-tempo 'Breaking and Entering'. The temperature has surpassed hot: it's exceptionally hot, yet somehow the crowd still have it in them to bounce around for the remainder of the show.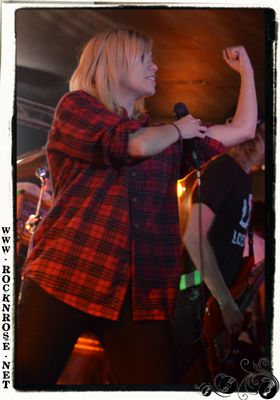 The Aussie quintet are also ignoring the heat as they jump around on stage with no sign of flagging, delighting fans with tracks such as: 'Starlight', 'Let It Land' and 'Thank You & Goodnight'.
In the live environment Tonight Alive's catchy pop-punk is rougher around the edges compared to on disc giving the music more grit and character. In-between songs lead vocalist Jenna McDougall addresses the sold-out crowd; she is determined to get a circle pit going, after a few attempts her wish is fulfilled during 'To Die For'. A couple of covers are thrown in - Rufio's 'In My Eyes' and Mumford and Sons 'Little Lion Man' - prior to a touching rendition of their own 'Amelia'.
When the main set comes to its end, rather than heading off stage the band turn their backs on the crowd while encouraging them to be as loud as they can to earn another song. "Are you hot? Are you sticky out there?" Jenna asks with a smile, "well you might as well be wet!" with this the singer throws water from her bottle all over the crowd. One last sing-along is had when set closer 'Wasting Away' is aired and as a parting stunt guitarist Whakaio decides to do a spot of crowd surfing!
The pairing of LostAlone and Tonight Alive could be considered a little bizarre – how could two bands with such a different sound both win over the same crowd? Who cares what the answer is: the pairing worked really, really, well!
Tonight Alive
LostAlone
Blitz Kids
NICKELBACK

Daughtry
NIA, Birmingham
(02.10.12)
It has been over two years since we caught the Canadian mega stars in action at Liverpool's Echo Arena. Celebrating the release of their 'Here and Now' album, Nickelback are back and ready to rock multiple arenas during their stint in the UK. As an added bonus, we have a case of déjà vu: Nickelback's buddies Daughtry have come along for the ride.
"What's up Birmingham?" jovial lead singer Chris Daughtry inquires, before launching into the gritty rocker 'Renegade'. The North Carolina quintet keep the audience supplied with accessible, made for arena rock anthems such as 'Crawling Back To You', 'No Surprise' and 'Home'. Daughtry really do look and sound at home on the big stage. Encouraging a mass sing-along, Chris gives the crowd some lyrics to fill in the gaps he leaves during each chorus run during 'Over You'. It works wonders and loosens the crowd up.
Before the band performs the last song of their set, Chris informs the crowd: "I want to see the entire floor jumping up and down: that will show us how many people will be here for us next time; when we come back!" This is met with cheers of approval. As 'There and Back Again' kicks in the jumping commences and it's clear to see that the Birmingham crowd has fallen under Daughtry's spell.
Daughtry may be leaving this town like renegades but they will certainly be welcome back. This is the start of something good!
Three screens positioned at the back of the stage are set into action as flickering images roll across them. The excited crowd roar as the dark stage suddenly plays host to a colourful display of dazzling lights. It's time for Nickelback. Dressed head to toe in black Chad Kroeger, Ryan Peake, Mike Kroeger and Daniel Adair, get down to business with the aggressive edge of 'This Means War'. Everything that follows maintains the same level of intense excitement, as the quartet churn out their magical, memorable melodies. Nickelback's ability to pen catchy, mainstream rock songs is why they have become so successful.
Whether it's the dirty ditties: 'Something In Your Mouth', 'Animals' and 'Figured You Out'; the boozy anthems: 'Bottoms Up' and 'This Afternoon' or the sentimental ballads such as 'Far Away', 'Photograph' and 'Trying Not To Love You', the crowd are always ready to sing-along en masse.
Chris Daughtry joins the quartet for a fun-filled rendition on 'Rockstar', during which the screens capture various members of the audience singing; there are plenty of wannabe rock stars in the building tonight.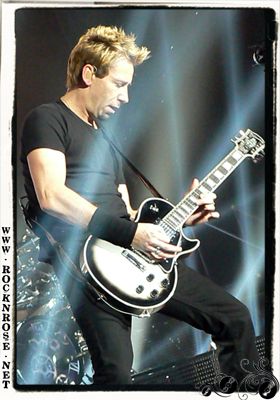 Unlike previous Nickelback concerts, for this 'Here and Now' tour, the stage show is free from pyrotechnics: no flashy fireworks; no flame throwers; no bangers to make you jump out of your skin. While, in the past, pyros have been a complementary addition to the show, tonight proves that Nickelback do not need these extras to provide an exhilarating experience – they can do that all by themselves. Beer throwing and t-shirt cannons are still a staple part of the entertainment though, fun times indeed.
Ryan sits down in front of the piano which has been brought on to the stage and begins to play the opening chords of the gorgeous ballad 'Lullaby'. Chad is late to the stage but after making a quick dash he picks up the microphone in time for the second line. After the song has ended Chad addresses the crowd revealing that he had gone to change his t-shirt but hadn't realised what a trek it was to the dressing room. "I feel like I owe you a line" the front man says, referring to the missing first line of the song. "I know the feeling..." Chad sings; the debt now cleared.
The infectious socially aware anthem 'When We Stand Together' provides another euphoric sing-along, followed by a well-placed, but a little too drawn out, drum solo by Daniel.
'How You Remind Me' closes the main set. The encore consists of the vibrant 'Gotta Be Somebody' and 'Burn It To The Ground', the latter has the crowd jumping up and down, devil horns on display. "I love this f***ing town!" Chad exclaims, before the band say their goodbyes. Birmingham loves Nickelback too Chad.
Whatever you think of Nickelback or their music, witness them in the live environment and you'll see that these guys deliver 110%. They are, it has to be said, an outstanding live band.
HALESTORM

Heaven's Basement / Zico Chain
O2 Academy 2, Birmingham
(21.09.12)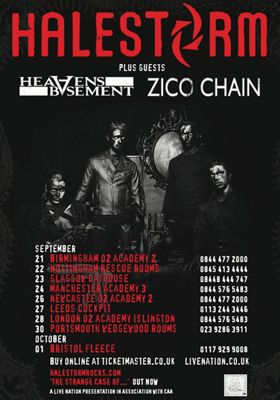 Pennsylvanian rockers Halestorm have paid regular visits to these shores in the past couple of years, supporting the likes of Theory Of A Deadman, Shinedown, Slash, and as part of the Taste Of Chaos tour with Disturbed and Papa Roach. This time though, it's their turn as headliners. This show at the Birmingham O2 Academy 2 marks the first date of Halestorm's first ever European headline tour and what an opening night it turns out to be.
London trio Zico Chain are a hit with the audience from the start. Their music is like a pick and mix goodie bag with plenty of different treats to choose from - whether your ears like hard 'n' heavy, sing-a-long anthemic numbers or grunge tinged bursts fuelled with aggression. Featuring tracks from both their current 'The Devil In Your Heart' release and their 2007 debut 'Food', Zico Chain's set provides a great source of pleasure for the ears. The epic 'New Romantic' is one of the highlights and should definitely be bothering the radio airwaves and labelled 'Top 10 Hit'. The System Of A Down-esque 'Mercury Gift' and the Marilyn Manson meets Queens Of The Stone Age stomp of 'Where Would You Rather Be?' are also well received. A brilliant set from Zico Chain.
It's rather apt that the next band should be touring buddies of an ensemble called Halestorm. The origins of Heaven's Basement date back to 2003, when a band with the name Hurricane Party was formed featuring drummer Chris Rivers. Two name changes, a varying line-up, a sound overhaul and almost a decade later, the current incarnation of Heaven's Basement - Aaron Buchanan (Vocals), Sid Glover (Guitar), Rob Ellershaw (Bass), Chris Rivers (Drums) – come bounding on-stage, all fired up and ready to try and wow the crowd. Lead singer Aaron comes across as confident, a little too confident at times but as he is strutting around the stage you can tell he was born to perform.
New single 'Fire, Fire' is a grower, with the chorus getting caught in your head. Unfortunately Aaron's vocals do occasionally get lost in whirl of guitars and drums, which may be part of the reason why the crowd are not overly responsive. Nevertheless, old favourites like 'Can't Let Go', 'Reign On My Parade' and 'Executioners Day' create a spark that helps the band get the crowd on side.
Heaven's Basement have a reputation for being a great live act, and they are. Tonight though the audience do not appear to be as drawn to Heaven's Basement as they were to Zico Chain, even so, the quartet give it everything they have.
Now the audience are more than ready for the main event. Chants of 'Halestorm, Halestorm' begin. Drummer Arejay Hale walks to the front of the stage. The bottom half of his face covered in a mask, Arejay raises his arm as a greeting to the elated crowd. As he makes his way behind the drum kit, his fellow band members – bassist Josh Smith, guitarist Joe Hottinger and of course leading lady Lzzy Hale – walk on to the stage to rapturous applause and blitz straight into 'Love Bites (So Do I)'. Halestorm continue to tear up the stage with the in-your-face anthems 'Mz. Hyde' and 'It's Not You'. Lzzy Hale's vocals are immense – her voice is old school style, it's a powerful tool that can deliver force and delicacy, pitch perfect. Hale is without a doubt one of the best singers around today. While the majority of the set is made up of songs from the quartet's newest release 'The Strange Case Of…', the older material hasn't been left out. 'Familiar Taste Of Poison', 'Dirty Work' and 'I Get Off' all work their magic. After 'Rock Show' sums up the vibe and the energy of this show perfectly, Lzzy steps behind the keyboard to perform the stunning ballad 'Break In'.
Arejay gets his chance in the spotlight as he presents the crowd with a lengthy drum solo which along the way involves using his bare hands, his feet, and a pair of over-sized drum sticks. Very entertaining!
The encore features a rip-roaring rendition of 'I Miss The Misery' and the celebratory 'Here's To Us', for which Lzzy borrows Joe's can of beer to raise a toast to the crowd. It's a fitting way to round off this milestone event in Halestorm's career. The applause and cheers as the band line up to take a bow are deafening; Halestorm deserve every hand clap and holler. UK Arenas beckon.
INME

The Enid / JoyKill
Wulfrun Hall, Wolverhampton
(07.09.12)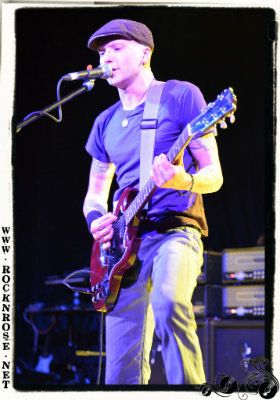 Tables and chairs surrounding the perimeter of the Wulfrun Hall convey a very relaxed atmosphere. The hall is far from full but those who have made the effort to attend tonight's event find themselves rewarded with an eclectic show.
The evening begins with the debut performance of Northampton based band JoyKill, in all honesty, you certainly wouldn't guess that this was their first show. JoyKill showcase a diverse range of songs. 'Particle Wave Duality' and 'The Last King' see the band dipping their toes into the metal genre while carrying a melodic tone. The piano driven 'Far Beyond' carries a gentle air, while the dramatic 'Into The Forest' brings synth pop duo Tears For Fears to mind. JoyKill are well received and no doubt the audience members who have arrived early are certainly glad they did.
Next to entertain are a quirky group called The Enid. Having formed in 1976 by composer / keyboardist Robert John Godfrey, The Enid has undergone numerous line-up changes over the years. The current line-up has an age range of 23 to 64. Described as "The most majestic rock band of all time," The Enid really do offer something different. Grand instrumentals where classical and rock interweave. Sounding like film scores, the pieces of music begin low and slow, gradually building to a mighty climax.
In-between songs Godfrey talks a little about the band and their songs, he really does have a passion for his craft. Emerging from behind his keyboards at the back Joe Payne takes centre stage to sing songs such as 'Tripping The Light Fantastic', 'Raindown' and 'Summer'. Payne's charismatic stage presence and theatrical vocals show a hint of Freddie Mercury, although with Payne you feel as though you are watching him perform in a musical.
As they bring things to a close with another lengthy instrumental number, it's fair to say that even though the music may not be everyone's cup of tea, The Enid have the amazing ability of keeping an audience engrossed, so all respect goes to them for being gifted enough to be able to do that. The Enid is a band to behold.
Just before headliners InMe are due on stage the number of people gathered around the front barricade increases. The Essex/Brighton lads are on fire tonight and play a blistering set which opens with tracks from their latest effort 'The Pride' thanks to 'Reverie Shores' and 'Moonlit Seabed'. Frontman Dave McPherson jumps off stage during 'Faster The Chase' to shake hands with those up front. 'Belief Revival', 'Saccharine Arcadia', the immense 'Cracking The Whip' and the mesmerising 'Her Mask (P.A)' ensure that InMe's ten song set contain pieces of their entire back catalogue.
It's been 10 years since InMe burst onto the rock scene with youthful vigour and for a song that's over a decade old 'Underdose' still sounds fresh and exciting. As the curfew draws near the heartfelt 'Legacy' is delivered, filling the room with sincere emotion.
Talented, hardworking and determined, yet InMe have remained grossly underrated for the past few years. Do yourself a favour and get a copy of 'The Pride', then make sure the next time InMe are playing a show in your area go and check them out!
HEDLEY

Camden Barfly, London
(03.07.12)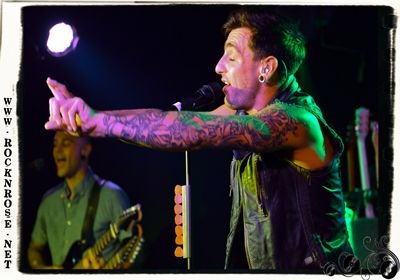 With the British summer being a total wash-out, it's about time something happened to brighten things up. That 'something' is happening at the Camden Barfly - Canadian superstars Hedley are in town.
Tonight, the London crowd get to see first-hand why, in their home country, Hedley have become renowned for their high energy live performances, selling out arena after arena.
"Are you feeling alrighhhtt!?" screams frontman Jacob Hoggard as the band take to the stage. The answer, in the form of a loud cheer, is hell yeah! Opening number 'One Life' is an uplifting anthem and one that you can't help but sing along to. In fact, the crowd spend the entire evening joyfully singing along as Hedley deliver a combination of infectious pop-rock songs and stunning ballads. A warning should be issued prior to contagious songs like 'Kiss You Inside Out', 'Cha-Ching' and 'Hot Mess' being unleashed; no one is safe from the ability these songs have to spread smiles, make bodies dance and hands clap.
While Chris Crippin is keeping the beat on drums, guitarist Dave Rosin is interacting with the crowd conducting the sing-alongs. Tommy Mac is all smiles and unable to resist mischievously pushing the neck of his bass guitar on the overhead monitor on numerous occasions, causing the monitor to swing.
Meanwhile Hoggard's enthusiasm as he bounces around is unfaltering. Even sat behind a keyboard for the delivery of striking numbers 'Invincible', 'Heaven's Gonna Wait', 'Stormy' and the hit 'Perfect', fails to stop the singer's energy and spontaneity.
Heading back to their 2007 release 'Famous Last Words' to round off the evening, the quartet serve up first-class renditions of 'For The Night's I Can't Remember' and 'Never Too Late'. Simply divine!
With their current album carrying the title 'Storms', Hedley and the UK already have something in common. Their UK invasion has now begun and this could well be Hedley's first and last show on such an intimate scale on these shores – the forecast looks promising for these guys; they are going to be huge!
OUR LADY PEACE

Islington Academy, London
(02.07.12)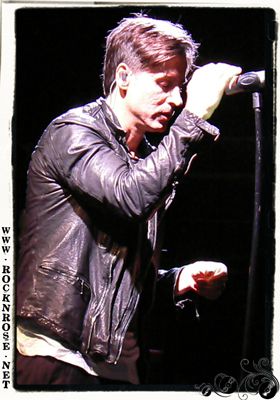 Quite a few years have slipped by since Canadian rockers Our Lady Peace performed on these shores. This sold-out show - the first of a two night run here at the Islington Academy - certainly made up for their absence though.
With a career spanning set-list, Our Lady Peace certainly know how to please their audience. Joining Raine Maida (lead vocals / guitar), Steve Mazur (lead guitar), Duncan Coutts (bass) and Jeremy Taggart (drums) on-stage is an additional musician - Robin Hatch - delivering her keyboard playing skills. Behind the band are large panelled screens showing an array of visuals, bringing a touch of arena sized grandeur to the proceedings.
Even though latest album 'Curve' is only three months old, songs such as 'Allowance', 'Fire In The Hen House' and 'Heavyweight' are met with a pretty impressive response; a striking accomplishment for a band which remain relatively unknown in this country.
For songs that are 10-15 years old, favourites such as 'Innocent', 'One Man Army' and 'Superman's Dead' still sound as invigorating as they did back then and each create a mass sing-along as soon as they are put into action. A brilliant acoustic rendition of 'Thief' is followed by 'Clumsy' and the soaring 'Somewhere Out There' – a song which still has the ability to cause goose bumps.
Current single 'As Fast As You Can' rounds off the main section of the show. The crowd stomp and clap as they wait for Our Lady Peace to return to the stage for a rousing version of 'In Repair'. "I've never heard an Our Lady Peace crowd sing 'In Repair' like that," frontman Raine comments afterwards. The audience haven't tired their voices out just yet though, the band find out during the beautiful '4am' just what the London crowd still have in them.
A glorious evening is completed by an old delight - 'Starseed'. With a promise that it will be shorter than 6 or 7 years before they next return, Our Lady Peace make their way off stage, leaving the captivated crowd with memories of a blissful night; one that has been well worth the wait.
THE WHISKEY SYNDICATE

The Ki / Twisted Species
Slade Rooms, Wolverhampton
(15.04.12)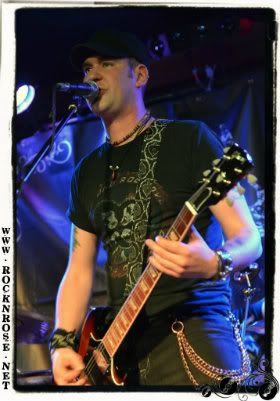 The Slade Rooms is bustling with people gathered to celebrate the launch of Black Country rockers The Whiskey Syndicate's forthcoming album 'The Right Side Of Crazy'. The album, due for release this summer, is played in full to tantalise the taste buds before the live entertainment begins.
Twisted Species are the first band of the evening. The Telford quartet get the event off to a great start dispensing their own grunge-laden hard rock songs amidst respectable renditions of Black Label Society's 'Bleed For Me' and Black Stone Cherry's 'White Trash Millionaire'.
Next up are another Midlands based band, The Ki. Whether it is intentional or not, listening to The Ki takes you back to the 90's Britpop era. There are hints of Oasis surfacing throughout a few of the songs, but that may be more to do with the nasally vocal tone used rather than the music itself. Nevertheless The Ki play a half decent set and get heads nodding along.
The crowd have been eagerly anticipating the arrival of The Whiskey Syndicate to take the stage and that time soon comes. The old school rock 'n' roll comes gushing out instantly as the band kick into 'Living Fast', the first track on 'The Right Side Of Crazy'. As expected the set plays host to the new tracks including the album's title track, 'Struck By The Light', 'Rock 'N' Roller' and 'Jazz Bar'; all of which go down well. 'Break The Chains' starts off slow and ballad like but soon develops into a powerful number oozing a chugging classic rock rhythm, a delivery The Whiskey Syndicate adeptly implement throughout most of their songs.
You can see the band members - Anthony Wright (vocals/lead guitar), Mike Davies (guitar), Richard Corry (bass) and Stu Adams (drums) - are having fun onstage and they get the crowd involved in the entertainment along the way. Older song 'Bareback' features a bass guitar solo by Richard which is lapped up by the audience. As the quartet take a bow after closing number 'The Darker Side', the crowd respond with euphoric applause. Over the past few years The Whiskey Syndicate have obviously honed their live performance, they play a tight and gratifying show loaded with confidence and passion. If you enjoy a fix of the classic rock sound, make sure you get yourself to a future gig by The Whiskey Syndicate boys.
TAKING HAYLEY

The Famous Class / My Extraordinary / The City Calls plus Guests
The Other Room at The Ballroom, Birmingham
(12.04.12)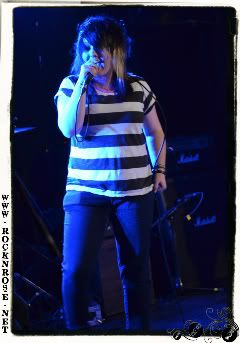 Taking Hayley, The Famous Class, My Extraordinary and The City Calls have been taking turns to headline the Stop, Drop, Rock! Tour, with each band taking the top spot at their home town show. If the show were to feature only the aforementioned band's it would still be a pretty decent line-up, but to have another three bands squeezed in makes the price of the ticket even more of a bargain!
First to take the stage is Nottingham's Deny The Lie. Fronted by Charlotte Eastwood, the quintet begin their set showcasing debut single 'Alright Now'. The music played is energetic, the band however is not. As Charlotte paces from side to side the guitarists Jordan Wright, Tom Baird and bassist Daniel Giles seem to spend most of the time looking down. Telling a crowd "I want to see some movement" is ironic, said crowd are probably thinking exactly the same thing. Even covers of Thirty Seconds To Mars' 'The Kill' and My Chemical Romance's 'Give 'Em Hell Kid' fail to ignite any vigour although the crowd do nod along appreciatively.
It's a shame that Deny The Lie's stage presence lets them down as they do sound great. 'Don't Say No' is an up-tempo original, demonstrating that a promising future could in fact beckon for these youngsters...They just need to do a bit more work on crafting a live show that not only sounds good but actually looks good to. Worth keeping an eye on though.
Next up Relentless In Love play an acoustic set. The trio do not really do much to lift the vibe of the night and their cover of Lady Ga Ga's 'Poker Face' doesn't go down as well as it could have done; the singer's vocals do not suit the song or do it any justice. Relentless In Love's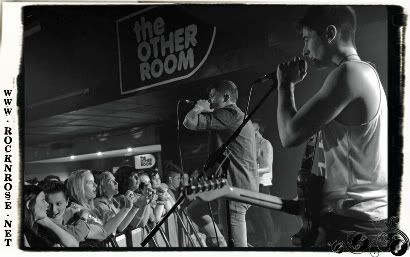 'Emergency' and 'Liars Take Care Of Themselves' were okay, but unfortunately there is nothing too memorable about this act which draws you in enough to want to discover more about them. Sorry guys.
Thank goodness for Hollywood. No, we are not referring to the famous LA district; we are talking about Hollywood the band who burst onto the stage all bouncy and breezy. This is how you do it. In an instant these guys sweep the crowd off their feet and get a party started! Throughout their set Hollywood keep the adrenaline levels pumped and the audience are lapping it up; jumping, clapping and clearly enjoying every minute. Hollywood's songs are pop-rock with some elements of rap and electro littered here and there. Their likeable melodies and captivating performance definitely gets the Birmingham crowd's attention. You can't help but feel a little disappointed when the ultra catchy 'Life Is Good' brings the set to an end.
The City Calls have a tough act to follow, but loaded with lashings of pop-rock the Southampton crew continue to deliver what the young crowd want. Delights such as 'Get Away', 'Kings', current single 'Meet In The Middle' and 'Truth Or Dare' from the band's mini-album 'A Spark To Ignite' go down a treat.
Newcastle's My Extraordinary mature rock sound infused with electro beats is received well. Numbers like 'The Hero That Walked Away', 'The Armistice' and 'Why Save The World' are powerful. The only niggle is My Extraordinary's songs do kind of sound a bit repetitive. Still, they are enjoyable enough.
Pop-punksters The Famous Class cite Blink-182 and New Found Glory among their influences. There is no surprise then that the type of songs this London crew deliver are uptempo and somewhat catchy. There are moments when the music reminds you of Bowling For Soup, minus the tongue in cheek humour. A spiky, fast-paced cover of Rick Astley's 'Never Gonna Give You Up' has the crowd pogo-ing.
While there may be nothing new on offer in songs such as 'Time's The Enemy' and 'Have You Ever...' you can see why the band are building up a decent following around the UK.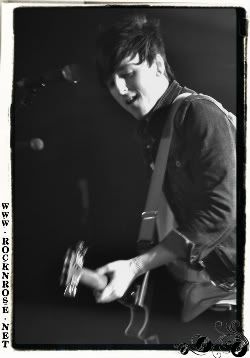 Sirens alert the Birmingham crowd to Taking Hayley's arrival. Red and white lighting circle the stage. As the headliner's take their place on stage the young girls scream with delight. Kicking their set into action with the catchy 'Up All Night' they then move straight into the bouncy 'Don't Let Go' - a tune that has the crowd singing along. Taking care of business with 'Holding On', 'Here I Stand' and a cover of Labrinth's 'Earthquake'; Taking Hayley put on quite an impressive performance with plenty of energy. If you like pop-rock melodies you should certainly take time out to take a listen to what these guys have to offer.
Taking Hayley
The Famous Class
My Extraordinary
The City Calls
Hollywood
Relentless In Love
Deny The Lie
INME

LostAlone / Mojo Fury
Temple at HMV Institute, Birmingham
(28.03.12)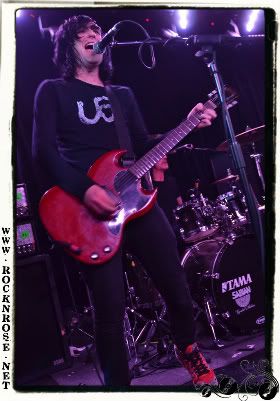 The Temple is the smallest of three rooms at the HMV Institute and tonight it is packed. Openers Mojo Fury supply synth heavy, ambient indie rock. Running through songs such as 'The Mann', 'Grounds', 'Kill Cock Robin', 'We Should Just Run Away' and 'To Comprehend', the Northern Ireland foursome receive a warm response from the audience.
Jeff Wayne's 'War Of The Worlds' signals the start of LostAlone's set. "We Are LostAlone" singer Steven Battelle informs before the Derby trio kick into 'Sins and Sinners', the crowd clapping along to its beat. The momentum has certainly shifted up a few notches. During 'Unleash The Sands Of All Time' Steven goes crazy, handing his guitar to a member of crew side stage, he proceeds to spin around in a circle while simultaneously removing his jacket and flinging it across the stage, knocking the microphone off its stand in the process.
LostAlone and headliners InMe undeniably have something in common when it comes to the live stage; both bands put on a show that is dynamic and entertaining, and one which makes an audience feel like they are truly part of it. Splitting the crowd down the middle for a chant contest, the singer has one side shouting 'Lost' and the opposing side 'Alone', with each side getting louder with each effort. Heads nod and toes tap to the catchy 'Blood Is Sharp' before we get to witness the band rock out hard during 'Do You Get What You Pray For'; the tiny stage certainly doesn't seem to hinder their ability to create havoc. LostAlone's music is as intense as it is intriguing and as their set comes to an end with latest single 'Love Will Eat You Alive', the band can be sure that they've made many more friends in Birmingham.
Not to be outdone, InMe continue the pace and the crowd love every second of it! Before their set gets underway, frontman Dave McPherson announces that he'll be glad of any help from the crowd providing backing vocals tonight as he has "an amazingly f****d up throat". Not that his throat troubles hamper the quality delivered one bit.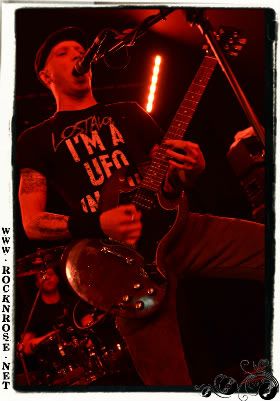 As they tear through a good selection of tracks from their catalogue of five studio albums, InMe have never looked happier or sounded tighter as a band. 'Reverie Shores', 'A Great Man', 'Pantheon' and 'Moonlit Seabed' - from their new release 'The Pride' - sound superb and fall perfectly within the set. During old favourite 'Faster The Chase', Dave carries out his Aisle of Rock, where the frontman asks the crowd to part down the middle, front to back, before he jumps off stage, runs through the path which has been created, high fiving everyone he can.
'Cracking The Whip' is followed by 'Overgrown Eden' gem 'Natural' which goes down a storm, with the crowd shouting the originally whispered lyric 'I know' as loud as they can back to the band. InMe have become a much heavier live and as a result chunky riffs and even deeper scowling backing vocals are unleashed; they appear to be a much more confident band even when compared to only a couple of years ago.
'Her Mask (P.A)' rounds off the main set but the Essex foursome do not leave the stage, instead they stay put and head straight into the encore, starting with the emotional tribute 'Legacy', dedicated to the woman who helped get them signed all those years ago, who sadly passed away last year. 'Ferocity In Desire' is up next. The finale goes to the brilliantly resilient 'Underdose' – unsurprisingly things get even more chaotic in the pit as the crowd jump around like mad. A great way to close the show, leaving fans yearning for more.
Overall verdict: Brit rock is alive and well and it's truly kicking.
3 DOORS DOWN

Seether / Takida
O2 Academy, Birmingham
(12.03.12)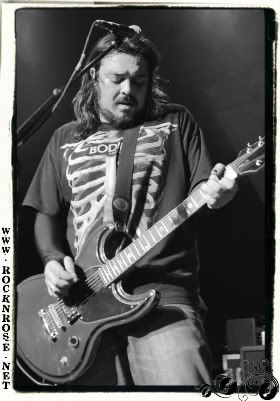 Swedish rockers tAKiDA get the show off to a great start thanks to their tight performance of solid, alternative rock. They only have a short time in which to impress but being equipped with a good calibre of songs such as 'The Fear', 'Haven Stay', The Artist' and 'Never Alone Always Alone' means they make an impact within minutes. tAKiDA is definitely a band to keep an eye on.
Next up are Seether and excitement for the trio's arrival on-stage is rife as chants of 'Seether, Seether' echo around the venue. Drummer John Humphrey, bass guitarist Dale Stewart and singer/guitarist Shaun Morgan are greeted with cheers of delight as they walk out onto the stage. Breaking straight into fan favourites 'Gasoline' and 'Fine Again' the trio get the adrenaline pumping before bringing in the hugely popular ballad 'Broken', creating a mass sing-a-long. Talk is kept to a minimum so filling the gaps in-between each song is the noise of distorted guitars. The band up the tempo again with sprightly number 'Tonight' which is followed by the toe tapping, hand clapping, incredibly catchy anthem 'Country Song'. Morgan is then left solo to perform 'The Gift', dripping with emotion; it's hard not to be gripped by every word. The final shot of adrenaline from Seether comes from 'Remedy'; the crowd jump around and sing back the words. A rockin' set! We certainly need to see more of Seether here in the UK.
With hardly any media coverage 3 Doors Down has managed to capture the attention of enough people on this side of the Atlantic to pack out venues such as this. When you witness 3 Doors Down in the live setting you can see why they've attracted so much interest and how they've successfully managed to maintain it. Not only do they possess powerful radio friendly anthems like 'Time Of My Life', 'It's Not Me' and 'It's Not My Time' but the energy these guys have when they are together on-stage is magnetic. The Mississippi quintet keep the stage set-up clutter free and it's clear to see why as singer Brad Arnold, bassist Todd Harrell and guitarist Chris Henderson are like loose
cannons as they make sure they use every inch of the Academy's stage. Soon even that's not enough for frontman Brad as he jumps on the front row barrier to sing 'Duck and Run' to the crowd. Brad purposely falls and is held aloft by a mass of hands; he doesn't surf far though as security grab hold of him.
The crowd help sing a heart rendering rendition of Phil Collins' 'Another Day In Paradise' which is sung acapella by Brad. The band exit the stage as a video-piece showing Brad talking about his school years is played on the large screen at the back of the stage (which has been alive with animation and video footage throughout the set); the piece ends with this advice to teenagers from Brad: 'Live today like it's not coming back because it's not. Live your life now.' The band return, playing a rip-roaring 'When You're Young'. Overflowing with melody and passion, the ballads 'Away From The Sun', 'What's Left' and 'Heaven' sound stunning. As 'Here Without You' makes its appearance the crowd let out a huge cheer and sing the words back to the band.
The encore is soon here and what an encore it is. As drummer Greg Upchurch provides the beats, the stage is lit up in a glow of green lights; the crowd gives out a cheer of approval as the first chords of 'Kryptonite' play. This live staple - the band's first ever single, released over 12 years ago - always creates a stir. Next in line is the fast-paced 'Believer', even at this point the band's energy levels show no sign of waning so it's a pity that the curfew time drawing ever closer. Finishing the show with the rousing 'When I'm Gone' and as 3 Doors Down bid farewell, you just know that the crowd are already hoping that the band will return soon.
OCTANE OK

Adelaide / Burn So Bright
Camden Barfly, London
(21.02.12)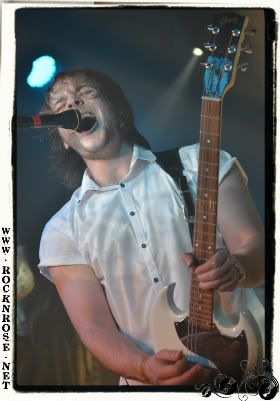 After changing the line-up in the summer of last year Hertforshire's Burn So Bright have been busy working on a new collection of songs; a handful of which they provide for the listening pleasure of those gathered in the upstairs room at Camden Barfly. Lead singer Millie Peters has a great voice but while the rest of the band appears to be pretty confident on-stage, at times Peters looks like she can't quite loosen up. No doubt this will change once more gigs are under the belt. The quintet play an enjoyable set packed with plenty of pop-rock melodies that you could happily listen to again and again. If you are into We Are The In Crowd, Paramore, Tonight Alive and the ilk then you should not let Burn So Bright pass you by as they are well worth checking out.
Next up is another band that has recently amended their line-up. Judging them on their energetic and tight performance you certainly wouldn't guess that Adelaide are showcasing a new recruit. Tonight is Adelaide's first show since new singer Sam Storey (formerly of The Debut) officially joined the fold at the beginning of this month. On stage the London five-piece are an explosion of energy from start to finish. Musically, Adelaide are slightly heavier than the other bands on the bill but songs like 'Falling Under', 'High As I Can Go' and 'Parallels' come loaded with lashings of melody and liveliness. These guys are a hit with the Camden crowd and if the title of their EP - 'We Came Here To Win' – is anything to go by, then Adelaide will be pleased with the response they acquired, although they didn't quite win Gold. That medal goes to headliners Octane OK.
Octane OK's live show is dynamic; these guys own the stage. Kicking things off with 'Pretty Lady' then jumping into the equally infectious sounds of 'Take Take', the Birmingham quartet have no trouble making an impact on the London audience. Octane OK come armed with an arsenal of songs which are laden with radio-friendly melodies, sing-a-long choruses and catchy riffs. 'Already Know You', 'Curtain Call' and new track 'Calling Out' are blistering and have the crowd clapping and dancing along. 'The One' is the kind of rousing gem that somehow manages to sound twice as anthemic in the live setting as it does on disc. Sheer brilliance!
Octane OK's performance is always energetic and slick, tonight proves to be no different, the trouble is you don't want the show to end, but all too soon it does. During the inspiring 'Fly Again' the crowd is instructed to sit on the floor, as the band kick back in they all jump to their feet and continue to bounce up and down. Red balloons emblazoned with 'Octane OK' and 'So Alive' fill the small venue and the crowd joyfully send them flying in all directions.
This has definitely been Octane OK's night but all three of the bands on this bill left us suitably impressed and each one has a promising future ahead of them.
**More photos from the show can be found on the Rock & Rose Facebook page**
Octane OK
Adelaide
Burn So Bright
SHINEDOWN

Halestorm / Liberty Lies
HMV Institute, Birmingham
(17.02.12)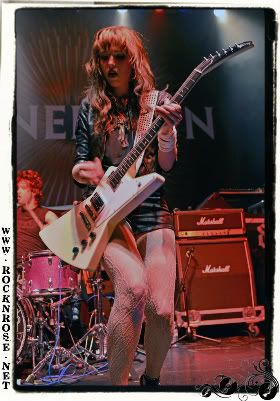 Unfortunately for Liberty Lies their slot begins shortly after the doors have opened so people are still making their way into the venue during their set. They may only have a short time to impress, but as the Black Country lads perform their melodic hard rock songs they make the right impact. Songs like 'Beggars Belief' and new single 'Confessions Of An Effigy' are potent and fulfilling. Halestorm's drummer Arejay makes a guest appearance during final number 'The Wire', not behind a drum kit but up front on vocals; Arejay and the Liberty Lies lads look as if they are having a blast up on stage together. Liberty Lies have great potential and this will certainly not be the last we hear of them.
Next up are Rock & Rose favourites Halestorm. The Pennsylvanian quartet, fronted by Lzzy Hale, are no strangers to UK audiences having toured with Theory Of A Deadman, featured on the bill at 2010's Taste Of Chaos Tour and Download Festival. Needless to say there are plenty of people within the sold out crowd who are familiar with the high energy performance Halestorm always deliver. Opening number 'Love Bites (So Do I)' gains the attention it demands; the ballsy rocker is a track featured on the quartet's new EP 'Hello, It's Mz.Hyde'. The vigorous momentum continues as 'It's Not You' comes out with full force.
With the release of their new album – 'The Strange Case Of...' – around the corner, new songs are showcased. 'American Boys' and 'Freak Like Me' are hard rocking and infectious. Halestorm's radio-friendly rock 'n' roll is a resounding hit with the audience who bounce up and down as instructed when 'Dirty Work' is unleashed.
Lzzy's a cappella rendition of Heart's 'Crazy On You' brings calmness. Guitarist Joe joins Lzzy onstage to begin the stunning 'Familiar Taste Of Poison', with bassist Joe and drummer Arejay returning to their positions in time for the second verse.
The zany Arejay is always delightful to watch, his drum solo is as entertaining as ever. Not content with using just his sticks, he takes a cymbal from its place and uses that to hit the rest of the kit before returning it and using his bare hands to keep the beat, the crowd clap along. "I love you Birmingham!" Arejay yells when he's finishes.
The cover of Skid Row's 'Slave To The Grind' is blistering and Lzzy really lets loose, resulting in the frontwoman being breathless by the time the song is complete! The raunchy 'I Get Off' rounds off a blinding set.
Halestorm could have easily been tonight's headliners but that job goes to an equally outstanding band going by the name of Shinedown.
When 'Sound Of Madness' gets the set underway it is greeted like an old friend and is the perfect way to get the adrenaline pumping and voices warmed up. Introducing the first of three new songs - from the forthcoming 'Amaryllis' album - into the set, it's evident the members of Shinedown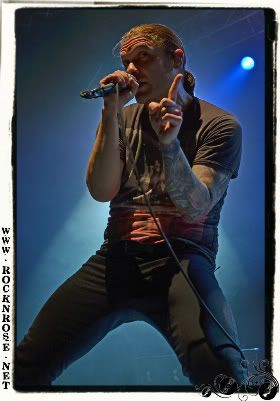 are excited to have some fresh material to share. 'Enemies' is filled with energy and is as infectious as the flu virus: "you've got the world on its knees, you're taking all that you please, you want more, but you'll get nothing from me...." frontman Brent Smith sings powerfully as the crowd punch their fists in the air with delight.
Watching Shinedown live you can really see the tight bond they have as a band, the connection between Brent and guitarist Zach Myers is especially clear to see, the pair are constantly interacting with one another. 'Cyanide Sweet Tooth Suicide' sees everybody on the main floor jumping up and down and the powerful 'Diamond Eyes (Boom-Lay Boom-Lay Boom)' adding even more fuel to the liveliness. Even the slower numbers such as 'If You Only Knew', 'The Crow & The Butterfly' and '45' carry as much energy and passion as their heavier counterparts.
The encore is the cue for a mass sing-along. First in line is the rousing anthem 'Bully' followed by the stirring rendition of Lynyrd Skynyrd's 'Simple Man' by Brent and Zach. It's no surprise that 'Second Chance' raises the roof, this epic song will never fail to garner an intense reaction. Speaking of intense, the brilliant 'Fly From The Inside' closes the awe-inspiring show. After hearing the shouts of 'Shinedowwwwnnnn' several times, Brent, Zach, bass guitarist Eric Bass and drummer Barry Kerch spend time throwing plectrums, drum sticks and set lists into the crowd before giving a final bow and exiting the stage. From the show of hands earlier in the set, a huge portion of the crowd has been made up of people seeing Shinedown for the first time; it's a safe bet that every single person who raised their hand will be back the next time Shinedown return to Birmingham.
**More photos from the show can be found on the Rock & Rose Facebook page**
THE RED JUMPSUIT APPARATUS

Hawthorne Heights / Failsafe
The Library at HMV Institute, Birmingham
(05.12.11)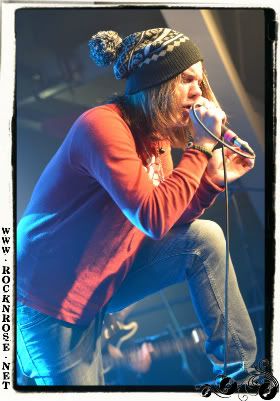 Preston five-piece Failsafe deliver their melodic rock with such enthusiasm, it's clear to see they are enjoying every minute of their time onstage, and for those watching them it seems that the feeling is shared. Second song in and the crowd are waving their arms from side to side during the muscular 'Only If We Learn'. The band go on to impress their audience further, as they perform a handful of songs - including: 'Something To Someone', 'Skin & Bone' and 'Early Hours' - from their forthcoming 'Routines' album, all of which go down well. Judging by their fervent live show and the quality of material they have to offer, Failsafe could well make their mark in 2012.
Next up are co-headliners Hawthorne Heights. Their diverse style of music is a hit with the Birmingham audience. Sometimes catchy, sometimes aggressive, melodic and screamo – this Ohio band are like a bag of mixed delights. Hawthorne Heights present a set crammed with some of the finest tunes from their first two albums: 'The Silence In Black And White' and 'If Only You Were Lonely'. The toe tapping 'Drive' and a bite sized selection of more current material from the 'Hate' EP, including the EP's title track and 'Oceans' are put into play, but it is really the older material that gets the crowd pumped up with songs such as 'This Is Who We Are' and 'Ohio Is For Lovers' setting the mosh pit into a frenzy. The Red Jumpsuit Apparatus have their work cut out.
The stage is filled with fog as the smoke machine is put to work. It's not too long before the dark outlines of the band members can be seen as they walk out onto the stage. It's a cold evening outside and it's not much warmer inside the venue so you cannot blame singer Ronnie Winter for his decision to wear a large woollen hat. The Florida quintet swing into action with 'In Fates Hands'.
Since their last visit to these shores The Red Jumpsuit Apparatus has undergone more line-up changes and tonight we see how well the new additions - Josh Blake (lead guitar), Randy Winter (guitar) and Kris Comeaux (drums) - fit the Red Jumpsuit mould. Tonight they are on fine form and as a band they sound and look tight, so let's hope the trio will be sticking around alongside Ronnie and bassist Joey Westwood for quite some time.
Another new addition to the RJA family is the latest album titled 'Am I The Enemy'. 'Fall From Grace' and 'Reap' from the album join the likes of 'Damn Regret', 'Choke' and 'False Pretense'.
Slowing things down a little, Ronnie grabs a stool and an acoustic guitar to present the powerful 'Cat & Mouse', 'Don't Lose Hope' and the stunning 'Guardian Angel' in their purest form.
The band return and help wrap up the 50 minute set with 'You Better Pray' and the blistering 'Face Down'. A really good show beginning to end - Monday nights are great when they are this action packed!
THE DARKNESS

Foxy Shazam / Crown Jewel Defense
O2 Academy, Birmingham
(18.11.11)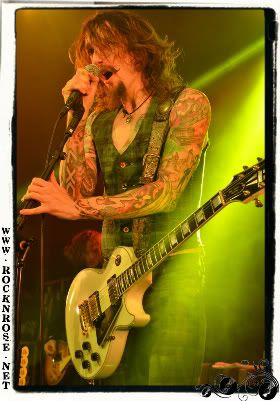 According to their Twitter account, Crown Jewel Defense - aka CJD - is just another stadium rock band taking over the world. For now though they face the task of performing shortly after the doors have opened. The sparse crowd get familiar with CJD and their guitar-driven songs which have an essence of 80's rock seeping through them; mix in some pop melodies with that and you get a promising insight of what to expect from the Californian rockers. 'Alive Again' is one of the highlights from the set.
What happens next is sheer entertainment that's for sure; nothing can prepare Birmingham for Foxy Shazam. Unique, quirky and shall we say interesting? Foxy Shazam is one crazy package, taking you back to the time when The Darkness first unleashed their camp, over the top antics to the unsuspecting crowds, when they received a similar reaction of humorous confusion and the question 'is this for real?'
Beginning their show with a speech about the colour blue has people scratching their heads: "To many of you people blue is just a colour" lead singer Eric Nally whines in his Willy Wonka-esque voice, "but to all of us on-stage blue is our f****ing soul" he screams. Then the madness really begins. Gambols across the stage, headstands, balancing bass guitar's on fingers and not forgetting bearded keyboardist Sky White's wild playing methods. These shenanigans are a big part of the show and the songs are merely the soundtrack. From their self-titled major label debut, tracks such as 'Oh Lord', 'I Like It', 'Unstoppable' and 'Killin' It' are aired to a crowd who are still trying to figure out whether or not they really should be feeling so entertained by Foxy Shazam. Is it a case of 'so bad it's good'? The jury is still out on that one but Foxy Shazam certainly had people talking, and there is a high chance that should the Ohio troupe re-visit these shores in the future, they will see quite a few faces from this audience again.
After five years the original members of The Darkness are re-united and back to bring their fun-filled retro-rock show to a host of sold-out venues on their Every Inch Of The UK Tour. Thin Lizzy's 'The Boys Are Back In Town' plays over the PA System; the lights go down and the Lowestoft quartet walk on to the stage to a chorus of cheers. Opener 'Black Shuck' starts the show with a bang, fireworks shoot across the stage, while the deliriously catchy 'Growing On Me' ignites the first of many energetic sing-alongs we'll hear this evening. One hour 35 minutes packed with the hits from their two albums 'Permission To Land' and 'One Way Ticket To Hell…and Back' as well as some new material including 'Concrete' and 'Cannonball'. Those who feared Justin Hawkins high pitched singing voice may not be on par in 2011 will be pleased to hear that Hawkins still has it! Bassist Frankie Poullain gets the cowbell out for 'One Way Ticket To Hell…and Back' before old song 'Nothing's Gonna Stop Us' makes a come-back and 'Get Your Hands Off My Woman' causes a stir. New song 'Out Of This World' brings a catchy pop-melody and goes down well with the crowd; dare it be said, it sounds like it would fit nicely with pop-rock boy band McFly's collection of hits. A beautiful acoustic solo rendition of 'Holding My Own' by the frontman has the crowd swaying their arms from side to side while the epic 'Love Is Only A Feeling' reminds you just how darn good these guys are. Twelve songs in and we finally see the return of Justin's signature attire – the catsuit – this one is red and white. The infectious 'Is It Just Me?' is backed by the first of two cover's, Radiohead's 'Street Spirit (Fade Out)'; the second cover - Queen's 'Tie Your Mother Down' - features as part of the encore.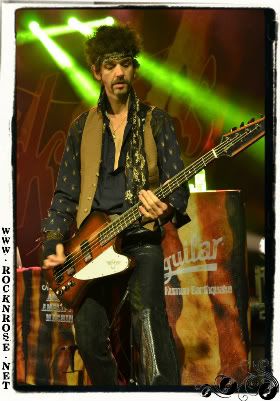 Celebrating the festive season early, artificial snow falls onto the stage as 'Christmas Time (Don't Let The Bells End)' rounds off the main part of the set. The energy from both the band and the crowd throughout has made for an unforgettable experience. After a magical performance of 'I Believe In A Thing Called Love' Justin tells the Birmingham masses: "We haven't played to a crowd like you for many moons. We've enjoyed every second of it!" Show closer 'Love On The Rocks With No Ice' sees the frontman heading out into the audience sat on the shoulders of a member of the crew, playing guitar as he goes. "Tell your friends the Darkness are back!" Justin shouts out as the band say their goodbyes. The Darkness are back and judging by their performance tonight their return will see them bigger and better than ever, just wait and see!
**More photos from the show can be found on the Rock & Rose Facebook page**
OCTANE OK
Jody Has A Hitlist / No Lights At Lockdown/ Nine Days Lane / Escaping Vendetta
O2 Academy 2, Birmingham
(01.11.11)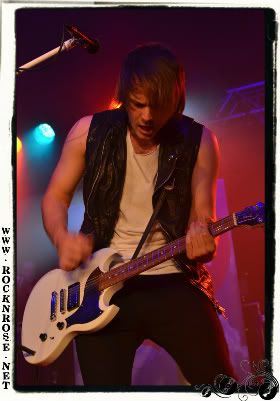 Birmingham pop-rockers host another fun-filled night at the Academy 2, with a cracking line-up of bands. Escaping Vendetta is the first to take to the stage and the female-fronted quartet gets the evening off to a good start. These locals may be relatively new to the scene having formed earlier this year, but they appear to be confident and at ease. Their songs are pleasing to the ear and they even manage to make a cover of Rhianna's 'S & M' sound half decent so they must be doing something right!
Birmingham has always bred a wealth of talent and nights like tonight prove that the talent is still thriving. Step forward Nine Days Lane. Sounding like they've taken a leaf or two out of the Fall Out Boy melody book, these guys provide likeable, toe-tapping songs which get those at the front clapping along. An impressive and enjoyable set which leaves you wanting to hear more.
No Lights At Lockdown from Wales also go down well. Delivering catchy, energetic songs including current single 'The Getaway', 'Stick & Stones' and a vivacious rendition of David Guetta's 'When Love Takes Over'; No Lights At Lockdown is definitely a band to keep your eyes and ears wide open for.
Having toured extensively around the UK and Ireland for the past couple of years, Dublin crew Jody Has A Hitlist are no strangers to the crowd here tonight and the girls in the front row squeal with delight as the band take their places on stage. What follows is a sprightly onslaught of pop-rock injected with a handful of memorable hooks - 'Through It All', 'Hit Me Like A Hurricane', 'Comebacks Aren't Your Thing' and 'Nobody's Looking At You' - seemingly ticking all the right boxes for those watching.
The other bands may have raised the bar fairly high but Octane OK sure manage to rise to the challenge and leap right over it. Tearing into 'Pretty Lady' they sweep the crowd off their feet in an instant. Do you want to hear hugely infectious melodies? Do you want a band with an energetic stage presence? These qualities do not just ooze, they pour out of Octane OK. The crowd jump along to latest single 'The One' and bob happily along to sparkling pop-rock delights like 'Already Know You', 'Curtain Call' and 'Parties Over'. A couple of new songs tantalise the taste buds while old favourite 'Take Take' helps cement Birmingham's number one position as the loudest crowd of the tour so far. All too soon the short but very sweet set draws to a close as red balloons fill the air during the incredibly catchy 'Fly Again'. It's pretty clear to see that Octane OK is going from strength to strength; it will not be long until this band is headlining the main Academy next door.
**More photos from the show can be found on the Rock & Rose Facebook page**
Octane OK
Jody Has A Hitlist
No Lights At Lockdown
Nine Days Lane
Escaping Vendetta
Check out the Archive section for past Live Reviews